Shop to Support Parkinson's Disease Foundation
Parkinson's Awareness Month
For the 3rd year running I'm proud to be a PDF Champion.  I'm raising funds for Parkinson's awareness month and the funds that are raised will go to the Parkinson's Disease Foundation (PDF) which is a leading national presence in Parkinson's disease research, education and public advocacy. You can contact them for support, advice and more at the link above.
This year (2014) I'll be donating 25% of the proceeds of each sale from the 2 collections below to the Parkinson's Disease Foundation throughout April.

Why do I support PDF?
I'm donating again in support of my friend and customer Chantal and because it's important to me to support the kind of research that PDF funds. My collections are inspired by beauty and science, neuroscience to be exact.
If you are new to my jewelry then learn about my 'molecule' designs here, trust me, after reading this you'll get it, and love it.
Scroll down to see the 2 collections of jewelry that you can choose from to support PDF. All pieces make great gifts and are handcrafted by me (Emily) in my studio. Custom orders are available, please contact me if you would like to commission a special piece.
Thank you for shopping to support PDF this April!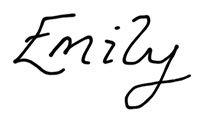 ——————————————————————–
Dopamine
See the entire dopamine collection….
——————————————————————–
Oxytocin 
This wonderful molecule is the bond in all your relationships. It has been described as hormonal superglue and influences us through touch.
It bonds us to friends, children, lovers and family. A simple hand-hold can produce that warm fuzzy feeling. What a nice molecule!